'Tis the season for the holiday cookie swap.  For some, a small break from the stressful holiday season.  A chance to get together with friends, grab a drink, some snacks, swap holiday mall horror stories, gift ideas and, of course, cookies.  If you have never been to one, here's the basic concept:  Each guest bakes dozens of their favorite cookie, takes them to the party where they then trade their cookies for a sampling of everyone else's.  The result being that everyone goes home with an assortment of new cookies.  Pretty simple, right? 
Apparently not.  The other day, a friend of mine sent me a Time Magazine article entitled Cookie Swaps: The Elaborate Rules of  a Sweet Tradition.  In a 21st Century cookie swap, guests are being sent their invitations along with lists of what cookies are and are not allowed, being told what is and isn't "acceptable" should you burn your cookies and not have time to bake dozens more, and are being judged by other guests on how much "love & effort" they seem to be putting into their cookies.  This doesn't seem to be very stress-free to me – and I bake for a living.
Last year, my friend Robin was invited to a cookie swap like one described in the Time article.  If you know Robin, you know two things: 1) she would be the first to admit she is not a domestic diva, but, 2) she is usually game to try anything.  Thankfully Robin has a way with the written word and she wrote about her hilarious experience in a post entitled, Thinking Outside The Tin, as part of her Drawing In blog.
Over the years I have been invited to my share of cookie swaps.  I usually graciously turn down the invitations, not because I don't love a good cookie, or that I don't want to share, but usually it's around the time I am madly baking thousands of cookie for holiday orders.  However, two years ago my friend Siobhan who writes a fantastic food blog called Foodfixe wrote to tell me she was going to try a virtual cookie swap called the The 12 Days of Christmas Cookies and asked if I would mind contributing a cookie (or holiday dessert) and a story.  Over those 12 days, I collected some great recipes from her other contributors and didn't have to bake a thing! So when she came back to me this year and asked if I would share another of my favorite holiday desserts, I jumped at the chance.  In the six days since it started, I have printed all six recipes and I can't wait until I have the time to bake some of them for my own enjoyment! 
Whether you choose to participate in a virtual or traditional cookie swap, enjoy your time spent in the kitchen.  Baking should be fun.  After all, you're making dessert!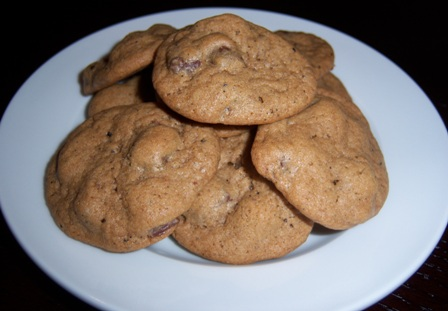 1 Comment
Read Our Recent Posts
You May Have Read About Us