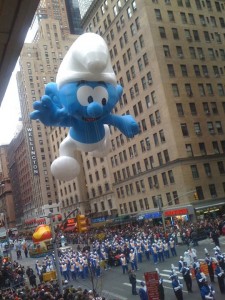 I hope you all had a great Thanksgiving! Thanksgiving is my all time favorite holiday, being that it's all about food, family and friends – and this year was no exception. We traveled to NYC where we spent Thanksgiving morning watching the parade march right by us from the second floor apartment of our good friend Susan while munching on H&H Bagels (bagels so good my son begs our friends and family from NY to bring him a dozen each time they come visit), and smoked salmon and whitefish from Zabars. Food is so much a part of our trips to NY and though some of my friends may be surprised to hear this, not all of my favorites are fancy, foodie-type places. Two blocks from my father-in-law's apartment is Mariella Pizza (on 8th btwn 56/57th), one of mine and my husband's all time favorites. Although Oprah may have recently discovered it, we've been eating their pizza with slices so large and drippy they just beg to be folded over for over 15 years! We also introduced our kids to the "Burger Joint" inside the Parker Meridian Hotel. Hidden behind a red curtain in the lobby and noted only by a small neon sign in the shape of a burger, this tiny little spot is the definition of a "joint" and great for burgers, fries and shakes. And while NY is famous for its giant cheesecakes, my new favorite dessert addiction is the Salted Pistachio Caramel soft serve ice cream at The Milk Bar.
Of course, there are those who don't live near Sweet Little Sin who feel the same way about getting their hands on some of our goodies. And my friend Reese was no exception. So after a quick hug, two dozen Lemon Drop cookies were immediately handed over. And while he really wanted to eat them the entire train ride back to Queens, he was kind enough to save some to share with his sister that evening, who loved them enough to write about them and Sweet Little Sin on her blog http://myjackandsalma.blogspot.com/2010/11/so-sweet.html.
If you have a favorite place to grab something specific in NYC I'd love to hear about it…we're always looking for something great to try on our next trip!
Read Our Recent Posts
You May Have Read About Us