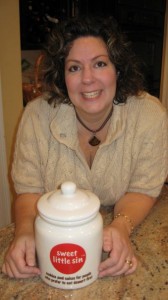 Hello?  Is this thing on?  Testing… testing.
Welcome to the brand new Sweet Little Sin website.  It's been a labor of love over the last few months putting this together.
I know what you're thinking: how does this affect ME (and by 'me,' I mean 'you')?  Well, I'm glad you asked.
There are a number of reasons for you to love the new site: 
– Each product page has bigger pictures for you to drool over (apparently scratch 'n sniff technology has yet to make it to the web).
– We will be offering regular website promotions and discounts (like 10% off catering tray orders of three dozen or more cookies).
– The homepage will always highlight the latest addition to the Sweet Little Sin product line so you know we're not just goofing off.
– There's a contact form now for simple questions (but ordering is still done by phone.  I would miss hearing your voice!).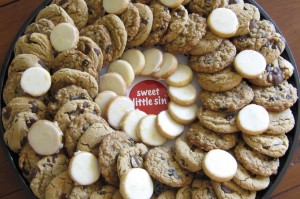 Also, I'll be writing this blog (or at least that's what the plan is, with good intentions).  On a regular basis, I'll be sharing stories from the Sweet Little Sin kitchen, links to relevant articles and generally keeping you informed and entertained.  In return, I expect you to keep me entertained with your comments.
Lastly, for the complete Sweet Little Sin experience, 'Like' us on Facebook and follow us on Twitter. Of course for the REALLY complete experience, give us a call and place your order now.
I hope you enjoy the new site.  Let me know what you think!
Best,
Adina
Read Our Recent Posts
You May Have Read About Us